Hello everyone! This is Bella. AG just had their release yesterday and it was pretty big. So today I have my thoughts on the new release. Enjoy! :)
Gabriela's Loft Bed
It's cute, but it's basically a grownup version of Mckenna's loft bed and plus it's $200.
At first I really liked it but then I saw the price ($75!) and then I found this on the

Walmart

website. (See below.)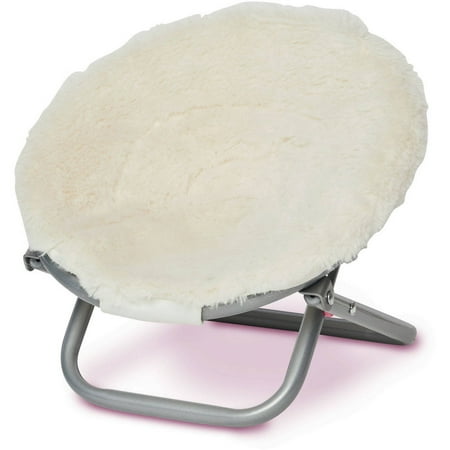 Pretty much the same and for only $10. And I'm not 100% sure but I thought they also had a purple one. So why spend $75 when you can get one very similar for $10?
Gabriela's Take Flight Performance Outfit for 18-inch Dolls
I'm not sure what I think of this outfit. I like the top, but I'm not sure if I like the skirt. It's very different.
There are also a couple of things for girls based on Gabriela's collection, but I'm not doing my thoughts on those.


Tenney's Sparkling Performance Outfit
I love the shoes, like the dress, but I hate the jacket! It might go okay with something else but it does not match the dress. Also, in this picture, Tenney's lips are lighter than they have been which is interesting.
Logan's Performance Outfit
I'm still kind of against American GIRL making a boy doll, but I must say I love this outfit! It's really cute except for that tiny patch which is supposed to be distressed??? AG called it distressing but it's not really and not on one knee.
I know this is for girls and normally I don't do my thoughts on the girl's release, but I love this hat! I want this hat!
Truly Me #69!
I really like her. She's not the normal blond hair blue eyes doll which is nice. And I really like the new TM meet outfits.
Truly Me #68
I like her and she's cute, but she looks like a modern day Anastasia!
Truly Me #67
Truly Me #46? Is that you? Oh wait is it Gabriela? Nope it's Truly Me #67! Lot's of creativity going on here. In case you haven't already figured out I'm not sure why AG released her seeing now that there's three dolls which look the same. (Triplets!)
And exciting news! Dolls with no hair are now included as TM dolls. You used to have to call AG if you wanted to buy a doll without hair, but now you can order them online!
Truly Me Accessories
I like most of the things in this set. At first I was like "A phone, that's
so cool!" and then I realized AG is meant for 8-13 year olds and why do they need a phone? For someone who is older it's cool but younger kids shouldn't have phones.
American Girl Grand Hotel
First off let me say that I love this! It's such cool idea and I don't think it's been done before. My only thing is that it's $275 and most of it is plastic. :/
AG Grand Hotel Luggage Cart
I like this set and I love how it goes with the hotel but then I saw the price. $50!! If the cart was metal it may be worth it, but it looks plastic.
Travel in Style Luggage
I like this set because of the suitcase and if you travel a lot that would be cool for your doll to have a suitcase, but it seems really similar to Grace's suitcase.
Travel in Style Dress
I love this dress and the color, but for some reason it reminds me of Our Generation. It's not bad but I know OG has released some clothes similar to this.
AG Grand Hotel Room Service Set
I love, love, this set! Like how cute is this??!! The food is adorable!
Travel in Style Accessories
I like this set for the neck pillow and sunglasses, but the camera looks an awful lot similar to Lea's.
This is part of the new mix-n-match line. I like the dress and it's cute, but I love the shoes more!
In my opinion, I think that this is the ugliest outfit ever. I like the top, but it does not work all together.
First off why a sweater and pants in June, and secondly I like the sweater and the pants but I don't quite like them together. It's not as bad as the last outfit though.
Again why the sweater in June, but I love both the sweater and the skirt! It's so cute!!
Why AG why??!! Thankfully this is part of the mix-n-match set, so you can buy it separately because it does NOT go together. The shirt is cute, I love the shorts, but not together. And why the tights underneath the shorts?!
Party Earring Set
I really like these earrings. I may use my AG rewards credit on them....
Ombre Sunglasses
I really like these and I could see my dolls wearing them.
All-Star Soccer Outfit
I really like this outfit! It's a realistic soccer outfit and it's not pink. But I feel like there's been multiple soccer outfits that have been released.....
Hot Lunch Set
This is so cute! I love the tacos but the lettuce and tomato salad and the Spanish rice don't look very realistic.
School Backpack set.
I love how realistic this whole set is and the backpack is so cute!
School Locker Set
This is cool, but I feel like it's not worth it for $58
Class Pet Hamster
Ahh! I love this set so much! The hamster doesn't quite look realistic but I love the cage!
French Bulldog
Awww!! If I didn't already have two AG dogs I would consider getting this dog. I don't really like dogs in real life, but this is so cute!
Tuxedo Cat
Yay! I know it's called the Tuxedo Cat but this is basically Licorice and it makes me happy they brought her back.
They also released a couple of other new things for the pets.
Graphic Fashion Tee
This is adorable! I could see myself buying this.
Outdoors in Overalls Outfit
I don't have any WellieWishers but I love this outfit so much! It's so cute!
Twirling Tulip Costume
I love this dress so much! I can't wait to see the pictures that people take of it.
Well that's most of the release! There were still a couple of WellieWisher things and Bitty Babies items in the release but I'll let you go look at those yourself.
Did you agree or disagree with me? I want to know so comment below!
Do you plan on buying anything or did you buy anything from this release? Comment below!